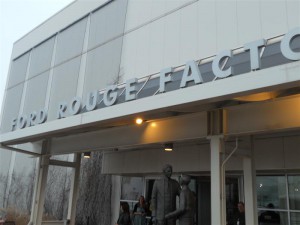 When I first received the invitation to Ford's Green Technology event at NAIAS, I just set it aside—I'm not really a car person, I won't be in the market for a car for quite some time and I'm not exactly the right demographic for an international auto show.
Then, the Clever Girls reached out to assure me I didn't need to be a car person, they weren't trying to sell me anything and I am exactly who they wanted to reach. And, so I went.


It was a little overwhelming at first, especially since I arrived late for dinner due to my flight arrangements. Walking late into a room full of people I don't know?
Way
out of my comfort zone. Most of it was, really, but I put on my big girl panties, got on a plane all by myself and flew off to parts unknown (okay, Detroit) to spend a few days with Ford executives and 100 fellow bloggers from around the world, at the urging of my friends at Clever Girls.
It was an amazing experience on so many different levels. How can you not love a week that begins with a hug from a
bad kitty
? Who wouldn't enjoy 2 days with a
blow-up doll
? Uh, wait. Maybe I should backup a little. Because there were cars, too. I promise.
(Dear
Hubby
, This was a very important business trip. Honest. Love, Me.)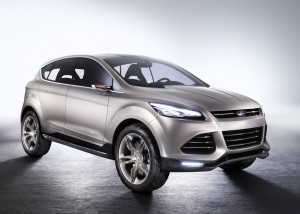 This is the Vertrek—she's new, and when Serenity is through, I want one. They'll still be making it—I'm sure of it. That's one of the things I picked up on in my time with Ford. They don't just make cars. They build brands that last.
How long as the F150 been the pickup truck to own? I remember the Explorer (2011 Truck of the Year, props) from when SUVs first entered the scene. And, the Mustang has been the Official Car of the Midlife Crisis for as long as I can remember.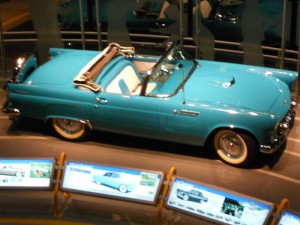 Personally, I would give my left eye to drive a T-Bird—and, not just because it's nearly useless anyway.
My point is, Ford's cars will be around awhile. The two cars we drive now, both less than 10 years old (and made by a competitor) no longer exist. The models came and went faster than we could pay off the car loans. But, people get attached to their vehicles—you drive them for so long, they become a part of you. And, when they die their last death, so many people just want what they had before.
I think Ford gets that—they understand it's not just about the cars. It's about the people. That just really struck me, especially when I put a little thought into the fact that Ford is bringing its electrified technology to not one brand new car created just for the novelty of it, but to 5 existing vehicles in their line that people know & love—including the hot, little Fiesta the teen has officially added to her wishlist. She'd like it in red, please. Not that I blame her—I was super excited to get behind the wheel of one myself.
Unfortunately, Mother Nature had other plans. My test track dreams were halted by snow & ice (but at least I didn't get stranded like some of my new friends). I do hope for the chance to put their electrified technology to the test one day soon. (Dear Scott Monty, I am just as much fun the 2nd time around. Honest. Love, Me.) In the meantime, I have plenty to process from my 2 days with Ford—at least another couple posts worth of thoughts in my head.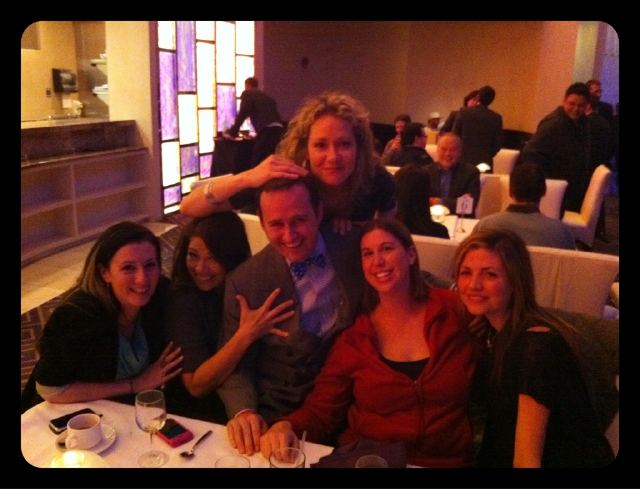 I was invited to participate in this program by Clever Girls Collective, Inc. in partnership with Ford and Ogilvy PR. Ford Motor Company paid for my travel and accommodations at the 2-day Driving Green Technology event, I was not compensated in any other manner for my time. My opinions posted here are my own.